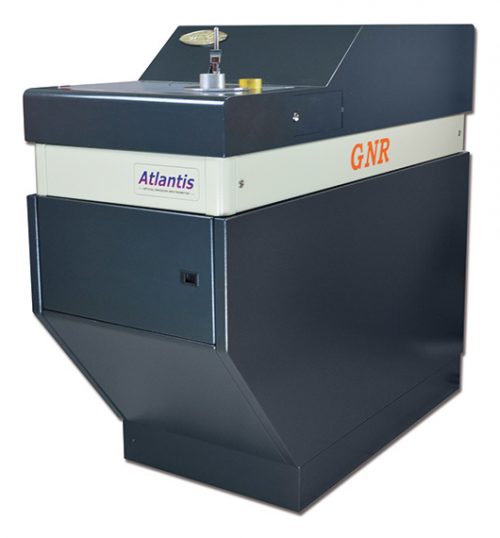 The S9 Atlantis is the GNR Top of the Range Laboratory Optical Emission Spectrometer.
The new S9 Atlantis is the result of 30 years of experience in developing and manufacturing optical spark emission spectrometers. It is recognised as one of the top laboratory metal analyser with improved analytical performances and is  highly flexibility and easy to use.
Manufactured with high quality components, the S9 Atlantis has been developed for any kind of analytical task. It is suited for routine analysis in process control, for monitoring quality control and also in research and development in complex or specific analytical needs.
The S9 Atlantis optical system can be a full CCD, full PMT or a hybrid system. The hybrid configuration if chosen combines the advantages of both photomultiplier tubes and CCD detector systems.
The spectrometer may have a cooled spark table and an ultra high vacuum optic by using an additional turbo-molecolar pump able to allow the highest sensitivity for trace elements analysis such as Nitrogen, Oxygen, Phosphorous and Boron in Steels, Copper, Aluminium and Titanium Alloys.
The S9 Atlantis can be designed with optional MDS optic (Multi Detector System), granting at the same time the best accuracy and the flexibility of elements to be analyzed.
Applications
Iron & steel alloys and traces
Nitrogen in steel
Aluminum alloys and traces
Copper alloys and traces
Oxygen in Copper
Nickel alloys and traces
Cobalt alloys and traces
Magnesium alloys and traces
Tin alloys and traces
Lead alloys and traces
Titanium alloys and traces
Further Applications upon request
Technical Data
The Atlantis is a configurable spectrometer. It can be a full photo multiplier system, a hybrid system or a full CCD system. The ranges and detection limits will therefore be dependent on the configuration, but in all cases this spectrometer has the lowest limits of detection and the highest resolution in our range. The Atlantis can be configured to measure extremely low levels of oxygen and nitrogen in steels and also very low levels of impurities in non-ferrous materials.
Downloads
Download the Atlantis Brochure
Our team of chemical analysts and technicians are on hand to help advise you on the machine which best suits your needs. For more information please fill out our contact form, email us or phone 0115 937 6686