Analytical software to replace outdated software systems
Winspark Software, the most up to date spectrometer software written in modern accountable languages by certified microsoft professionals allows you to do more things faster with your optical emission system. It is also the only Windows 32/64 bit package to operate different types of spectrometers from the same user interface.
Winspark is fully compliant with Dynalab a specialist laboratary management system.
Instruments that Winspark can operate with include the following:
ARL 2460, 3360, 3460, 3560, 4460
Hilger E980, E982 and derivatives, Polyvac 2000
BAIRD FSQ, SPECTROVAC 2000
Philips PW1400, PW1404, PW1480, XUNIQUE, PW1606, PW1660 series of XRF Spectrometers
This is a full 32/64 bit Windows system using the latest ActiveX kernel mode drivers for instrument communication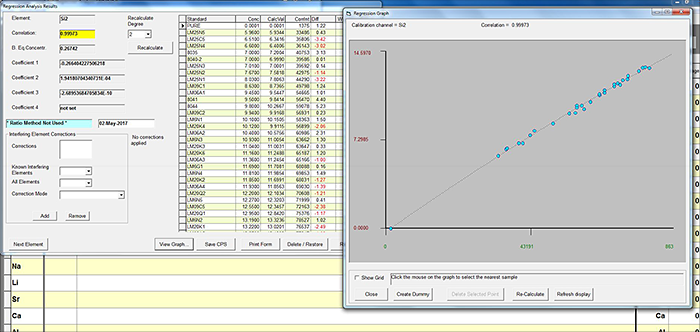 Winspark calibration screen. In this case Silicon in Aluminium casting alloy.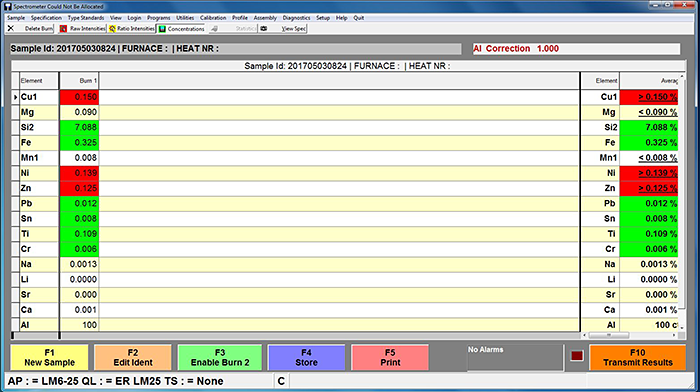 Analysis screen showing an Aluminium Alloy being measured against an LM25 specification. The red highlights results above spec. Green is OK. These colours are customisable and can also flash.
We have withdrawn support for the Philips PV 8020, 8030 and 8035 spectrometers. These instruments have not been manufactured since the late eighties and are now obsolete and the manufacturer is not supplying spare parts. We still have some spares in stock here but would advise against spending too much money on them.
If you require software for the Philips systems then we would suggest you use the E35 package from Sandberg Data Systems AB, Jarfalla, Stockholm, Sweden.
Our team of chemical analysts and technicians are on hand to help advise you on the machine which best suits your needs. For more information please fill out our contact form, email us or phone 0115 937 6686