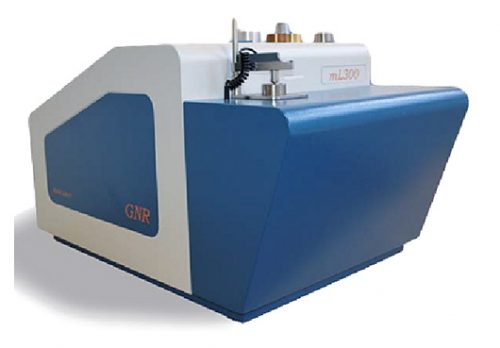 The S3 MiniLab 300 is the latest addition to the GNR range of Optical Emission Spectrometer designed by GNR. Today our MiniLab range is recognised as one of the most compact and highly performing optical emission spectrometers available in this class.
The S3 MiniLab 300 Spectrometer combines ease of use with low maintenance costs. With its affordable price and using the most advanced technological optical and electronic components it is truly a leader in its field.
The S3 MiniLab 300 is a Multi Matrix spectrometer for Ferrous Alloys, Aluminium alloys and Copper alloys.
Due to its innovative optical design, the S3 MiniLab 300 is the only spectrometer of its class to mount up to 7+1 high resolution CCD detectors with 3.648 elements to ensure the best spectral resolution (< 10pm).
The S3 MiniLab 300 with its extended analytical range from 130 up to 700 nm can cover almost all of the analytical requirements of a modern foundry. Extra element lines may be easily added if needed without hardware additions.
The innovative argon purged optic, with an argon consumption of 10 l/day only, ensures the maximum light transparency in the UV region at negligible cost.
Technical Data S3 MiniLab 300
Purged Argon Optical System. No vacuum pump needed.
A High Resolution CCD system with up to 7 +1 CCD solid state detectors, depending on required applications. Spectral Field: from 130 to 700 nm – High Luminosity Holographic grating with 3600 grooves per mm 400 – 700 nm extended range with additional CCD. The focal length is 300 mm for all optical systems.
Argon purged optical chamber with Proprietary Low Consumption Argon Device. Stabilised against  temperature variations
Downloads
Our team of chemical analysts and technicians are on hand to help advise you on the machine which best suits your needs. For more information please fill out our contact form, email us or phone 0115 937 6686